I Got Into An Accident While Driving A Rental Car, Now What?
Thousands of people drive rental cars in Florida each day. The rental car industry is massive. Enterprise Holdings alone has 649,000 vehicles in its fleet. If you're in an accident while driving a rental car, you may have questions like:
Who is responsible for a rental car accident?
Will the other person's insurance pay for a rental car?
Will at-fault insurance pay for rental cars?
Someone hit my rental car, what should I do now?
How do I get my car accident rental car payments?
Speaking with an experienced car accident attorney can help if you're in an accident while in a rental car.
NO FEES UNLESS WE WIN
Protecting Your Rights Since 1983
For more insight into your case, contact our team for a free consultation today.
Hablamos Español
What should I do if I have an accident in my rental car?
If you've been involved in an auto accident with a rental vehicle, ensure that you are safe and out of harm's way, then contact local authorities by dialing 911 immediately. Even if the car wreck is minor, alerting authorities allows you to start a documentation process that can help if you need to take legal action.
Seek out medical attention if you need it. If anyone else on the scene needs medical support, render aid if possible or alert the authorities that medical help is needed.
Make sure to document the scene and collect as much evidence as possible. Take videos and photos of the scene and collect witness statements. Be sure to obtain the following from the other motorists involved in the crash:
Name
License number
Insurance details
Contact information
With an accident involving a rental vehicle, it's also important to contact the rental vehicle company to kickstart available coverage.
Although Florida is a "no-fault" state, determining fault in a car accident involving a rental vehicle is important for your legal rights. Be sure to gather evidence that's available at the scene and take all the same steps that you would take after any other accident.
Who should contact the rental car company after an accident?
Regardless of who was at fault, if your rental vehicle is damaged following an accident, it is your responsibility to alert your rental car company. Failing to do so can complicate your claim and may result in a weakened case where you could lose the compensation and coverage you deserve.
Contact insurance
You should also contact your auto insurance company as well. Property damage liability (PDL) is designed to provide coverage for damage to another individual's personal property. Your Personal injury protection (PIP) Is designed to cover bodily injuries sustained during a car accident.
Because Florida is a no-fault state, fault does not play a role in determining whose insurance company will pay for certain damages. All Floridians must carry PIP and PDL insurance designed to cover them in the event of an accident. If your injuries or property losses exceed the coverage threshold, you can pursue a personal injury lawsuit to recover damages.
Florida insurance car rental protection
When renting a vehicle in Florida, you don't need to have rental car insurance. Florida rental car companies are required by state law to provide the minimum required liability insurance coverage. Rental car companies typically provide $25,000 in property damage liability coverage per accident. However, all Florida drivers are still required to carry PIP.
Supplemental policies
Because the majority of states do not follow no-fault auto laws, Florida car rental companies do not require drivers to carry PIP insurance. Tourists looking to rent a vehicle in Florida can choose to purchase PIP insurance from the rental company. Otherwise, their personal auto insurance will provide the required coverage.
Other supplemental policies can include collision or comprehensive coverage found on your own personal car insurance policy. If you don't have this extended coverage, rental car companies can allow you to purchase a collision damage waiver which provides comparable coverage.
Credit card coverage
If you have the right type of credit card and use it to pay for your rental vehicle, you might also be able to purchase supplemental insurance that provides further coverage. Contact your credit card issuer to learn more about your rental auto insurance coverage options.
What is a collision damage waiver for a rental car accident?
When you're in an accident in a rental car, the rental car company will want you to pay them for the cost of repairs. However, if you opted for a collision damage waiver, the rental company doesn't require you to pay them for the damaged vehicle. If you have collision and comprehensive in your personal auto policy, you shouldn't need the collision damage waiver from the rental company. In addition, some credit cards provide a collision damage waiver, also called a loss damage waiver, if you use their card to pay for your rental car agreement.
Does my Florida PIP insurance cover an accident in a rental car?
If you have PIP insurance, it covers an accident in a rental car. For Florida residents, that means having PIP insurance for your own vehicle covers you if you're in a rental car accident. You may receive payment for medical expenses up to policy limits regardless of who is responsible for the accident.
Out-of-state drivers and rental car drivers who do not own personal vehicles may not have this type of coverage.
Florida's no-fault insurance law
Florida is one of 12 states that adheres to no-fault auto laws. As a no-fault state, all drivers are required to carry their own insurance coverage that pays for damages when an auto accident occurs, regardless of who was at fault.
Under state law, individuals issued a Florida driving license are required to have the following:
PIP and PDL insurance at the time of vehicle registration
A minimum of $10,000 in PIP insurance. This coverage pays for medical expenses and other bills sustained following an accident.
A minimum of $10,000 in PDL insurance. This coverage pays for any property damage sustained during an auto accident.
Can I add rental coverage to my auto insurance policy after an accident?
Purchasing auto coverage from a rental company or your insurance policy must be done before an accident with a rental vehicle occurs. Typically, this rental insurance is purchased before or at the time of renting the car.
Is the rental car company liable for an accident?
A rental car company is not liable for an accident just because they are a rental car company. Law 49 U.S.C. § 30106 states that a party engaged in the business of renting vehicles is not legally liable just because they are the owner of the car.
A rental car agency may verify that you have a valid license, but they don't run a criminal background check or access your driving record before renting a vehicle. It's unlikely that the rental car company will pay damages, except through supplemental insurance coverage that you may have selected when you completed the rental process.
What legal liability standards apply to Florida rental car accidents?
Florida no-fault car accident laws apply to accidents involving rental vehicles. That means that PIP insurance covers your own medical bills without regard to fault. To cover damage to someone else's property, drivers need property damage liability coverage.
For Florida drivers, your own insurance applies when you're in a rental car. No-fault laws apply, too. A victim may bring a claim against a negligent party if they have injuries that meet a threshold of severity.
If the other driver is negligent, the right to compensation is no different than in other car accident claims. You may be able to recover damages, including:
Medical bills
Rehabilitation costs
Property damage
Lost wages
Pain and suffering
Does my personal car insurance apply if I'm in a rental car accident?
Personal car insurance often — but not always — applies if you're in a rental car accident. It depends on the state where you have your personal policy and the type of coverage that you have.
Your personal car insurance can be a welcome relief when you're in an accident in a rental car. You may have bodily injury coverage as well as collision and comprehensive that extends to your rental car. Collision and comprehensive may take the place of a collision damage waiver when there is damage to the rental car.
What insurance policies may cover a rental car accident?
Doing your due diligence on insurance coverage in a rental vehicle before an accident occurs can save you time and money. Even still, after an accident, you should look at every avenue to recover compensation. The following sources can help you following a rental car accident:
Coverage you elected from the rental car company
Your own personal car insurance

PIP / PDL
Bodily injury liability
Uninsured / underinsured
Collision and comprehensive

Coverage from a credit card
An at-fault driver's car insurance
Investigate these policies following an accident and whether you need to work with the rental car company regarding the damaged vehicle.
Attorneys for car accidents involving rental cars
A car accident claim may be especially complex when a rental car is involved. But you have important rights. If you have been in an accident involving a rental car, our car accident attorneys can help.
NO FEES UNLESS WE WIN
Protecting Your Rights Since 1983
The Bernstein & Maryanoff team can help you fight for the compensation you deserve. Contact us today for a consultation regarding your claim.
Hablamos Español
Sources:
Enterprise Holdings Mobility Solutions That Connect Us All. (2023).
Florida Insurance Requirements.49 U.S.C. § 30106.
About the Author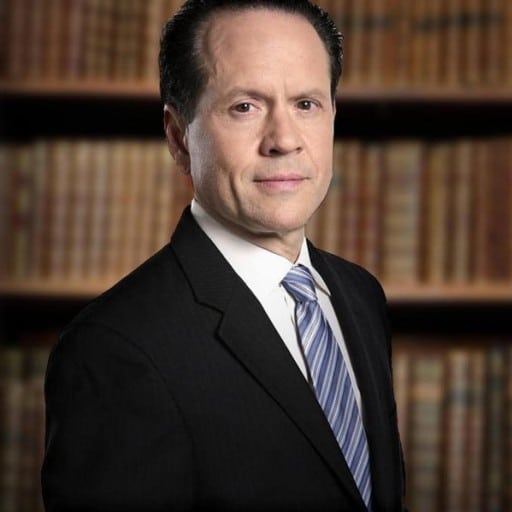 Jack G. Bernstein, ESQ.
Jack Bernstein is a hard-working and highly motivated personal injury attorney in Miami, Florida with over three decades of experience. He is a strategist and idea person, with a genuine passion for helping his firm's clients. If you've been injured, contact Jack Bernstein today for a free evaluation of your case.