Everything You Need to Know About Florida's Motorcycle Laws
Florida motorcycle laws are designed to help all motorists stay safe and enjoy their travels. When you go out for a ride, it's vital to know Florida's motorcycle laws. The laws for motorcyclists in Florida cover everything from what your bike needs structurally to helmet laws to how to use the roads.
Knowing the laws before riding a motorcycle in Florida will help you and your Miami motorcycle accident attorney determine the best course of action for getting the compensation you need after a crash. Here's the complete guide to everything you need to know about Florida's motorcycle laws.
What are the motorcycle laws in Florida?
Motorcycle laws in Florida cover a range of topics including helmet requirements, bike requirements, and rules for using the road. Florida motorcyclists must carry insurance and follow traffic laws. Florida motorcycle laws come from state laws. They apply to all motorcyclists in the State of Florida.
You must have a motorcycle endorsement
To lawfully ride a motorcycle in Florida, you must have a motorcycle endorsement on your driver's license. That means you need specialized training for motorcycle drivers. It's possible to get a motorcycle endorsement without having a regular driver's license. In either case, you must have an endorsement specific to motorcycles to lawfully ride a motorcycle in Florida.
Insurance requirements for motorcyclists in Florida
There are two sets of requirements for motorcycle riders in Florida. The first rule has to do with what insurance you need to have to lawfully ride without wearing a helmet. The second rule has to do with the liability insurance you have to carry to drive a motorcycle in Florida legally. To ride a motorcycle without a helmet, in addition to being over the age of 21, you must also have at least $10,000 in medical insurance benefits. The insurance covers your injuries if you're hurt in a crash. That insurance is optional for motorcyclists, but it's mandatory if you don't want to wear a helmet.
In addition, all motorcyclists must carry liability insurance. You must have at least $20,000 in total bodily injury insurance, $10,000 in coverage for property damage and bodily injury per person, and at least $30,000 as your single incident liability limit. Even if you wear a helmet, it's against Florida law to drive a motorcycle without these required insurance minimums.
Does Florida have motorcycle helmet laws?
Yes, Florida has motorcycle helmet laws. You must wear a helmet if you're under the age of 21. Even if you're over 21, you must still wear a helmet if you don't carry at least $10,000 in medical coverage in case of an accident. Florida's motorcycle helmet law is Florida law 316.211.
Any motorcycle rider in Florida needs to know the helmet laws in the state. Florida has helmet laws that apply to all riders. In addition, whether or not you wear a helmet might impact your right to financial recovery if you're hurt in a motorcycle accident.
Whether you were wearing a helmet or not, if you have been injured in a motorcycle crash, you will want to work with a skilled Miami motorcycle accident attorney to determine the best option for you.
What's the history of Florida motorcycle helmet laws?
Today, all drivers under 21 and drivers over 21 without medical insurance minimums must wear a motorcycle helmet. The law is a change that went into effect July 1, 2000. Before the law changed, all motorcycle riders had to wear helmets. The timeline of Florida's motorcycle helmet laws coincides with the passage and repeal of motorcycle helmet laws in many states throughout the country. Many states passed helmet laws in 1967 and 1968 in response to recommendations for helmet use from the U.S. Secretary of Transportation. In the 1990s, many of these states began to remove their helmet requirements with the State of Florida following suit in 2000.
Motorcycle laws, or the lack of them, remain controversial. The Florida Department of Highway Safety reports more than 4,000 motorcycle accidents each year. The National Highway Traffic Safety Administration reported an 81% increase in motorcycle fatalities after the removal of helmet laws, but the increase may be explained by the fact that ridership also increased significantly during that period. At the same time, the average cost of medical treatment from motorcycle accidents also increased. Opponents of motorcycle helmet laws say that it should be a rider's choice whether to use a helmet and that the increase in ridership after the repeal of motorcycle helmet laws indicates how many people prefer to ride without helmets despite knowing the risks.
Is a failure to wear a helmet evidence of negligence under Florida's negligence laws?
To fully understand Florida's helmet laws, it's important to explore whether the failure to wear a motorcycle helmet constitutes negligence per se or comparative negligence under Florida's civil negligence laws. That is, can a motorcycle accident victim's recovery be reduced because the motorcyclist didn't wear a helmet? In Florida, the answer isn't obvious.
The Florida Supreme Court has not directly ruled on whether a tortfeasor can introduce evidence of the accident victim's failure to wear a helmet as mitigating evidence of their liability. While a Florida court ruled on a similar issue in Rex Utilities v Gaddy in 1982, the case was distinguishable from current law for two reasons. First, the Rex case was decided before Florida repealed its motorcycle helmet law in 2000; second, in the Rex case, the defendant didn't provide any evidence that a helmet would have lessened the victim's injuries. Even though the Rex court didn't allow the defendant to introduce evidence that the motorcyclist wasn't wearing a helmet, the Rex case may not be good law because of changes in the law and unique factual considerations.
Because there's no direct Florida authority on the question of comparative negligence, the next question is whether courts in other states have ruled on similar issues. In 1985, an Arizona court allowed a defendant in a civil action to present evidence of non-use of a helmet even where there was no helmet law in the state (Warfel v Cheney). The defendant in the case had evidence to present that helmet use would have reduced injuries in the case.
It may also be helpful to explore how Florida courts have ruled on similar issues. A related question that a Florida court has ruled on is whether the failure to wear a seatbelt is admissible as comparative negligence in a Florida civil action. In Insurance Co. of North America v. Pasakanis, the court ruled that it was fair to introduce evidence of the victim's failure to wear a seatbelt because seatbelts have been proven to save lives. The situation of a victim without a seatbelt is different than a victim without a motorcycle helmet, however, in that seatbelts are standard equipment in motor vehicles while helmets are not included and readily available with the motorcycle itself.
The issues presented in whether to allow evidence of failure to wear a motorcycle helmet are conflicting. On the one hand, it's an accepted rule in civil negligence laws that a wrongdoer takes their victim as they find them. That is, a wrongdoer doesn't get to choose their victim, and they must pay for whatever harm results to the victim even if a different victim may have suffered fewer injuries. On the other hand, civil negligence laws also accept that everyone with a duty to others must take steps to be reasonable and careful. Until Florida courts resolve the issue in full, the best practice from a civil negligence standpoint is to wear a helmet when riding a motorcycle.
Mandatory eye protection for all riders
Motorcyclists find the feeling of the wind on their faces appealing when riding. Stripping away the shell of a car removes a layer of separation between motorcyclists and the world around them.
While motorcyclists find it appealing to feel the elements as they ride, it means they lack the protection offered by passenger vehicles, increasing their vulnerability. Car drivers have a windshield to protect them from debris. Motorcyclists don't have a windshield to stop a piece of trash or dirt from getting in their eyes. If something gets in a motorcycle driver's eyes, they might not be able to see. Items could block their view or cause irritation and watery eyes, reducing the driver's visibility. If a driver can't see the road or other vehicles, it could cause them to crash.
Florida laws require drivers and passengers to wear eye protection that meets federal standards. Their eye protection could be a face shield attached to a helmet. Motorcycle drivers and passengers can also opt to wear goggles or spectacles. Eye protection must be impact-resistant.
Motorcyclists have the right to full use of the road in Florida
Under Florida law 316.208, the rules of the road apply to Florida motorcyclists. When you ride a motorcycle in Florida, you have to follow the same laws that others have to follow. You can't weave in and out of traffic, and you must obey all traffic signals. Also, if you're traveling on a moped below the regular flow of traffic, you must hug the right-hand curb. You also have the same rights that other drivers have on the road.
Lane splitting is illegal in Florida
Have you ever been driving on a multi-lane road and had a motorcyclist drive between your vehicle and the vehicle in the lane beside you? This is called lane splitting. Since motorcycles are smaller than commercial and passenger vehicles, they can fit in places where other vehicles can't. When traffic is backed up, it can be tempting for motorcycles to take advantage of this.
Florida law prohibits motorcyclists from lane splitting. Statute 316.209 also requires motorcycles to give vehicles one entire lane in passing; they are not to pass a vehicle while sharing the same lane as the vehicle they're overtaking.
No more than two motorcyclists riding abreast
You have the right to full use of your lane, but you can also share a lane with another motorcyclist if you want to. Florida law 316.209 says that other drivers must give you full use of a lane. Although you may not drive between lanes of traffic or lines and rows of vehicles, you may choose to ride two abreast with another motorcyclist.
Laws regarding passengers
Motorcycle passengers include those behind the driver and those riding in sidecars. Florida laws require motorcycles to have footrests for passengers seated behind the driver. Footrests secure the location of the passenger's feet while in transit and prevent the passenger's legs from moving and interfering with another motorcycle if two motorcycles are riding abreast. It also prevents the passenger's feet from hitting the rear wheel or the road. If the passenger's feet strike the bike, roadway, or another object, it could jar the vehicle and interfere with the driver's ability to control the bike, which could cause them to crash.
State laws also clarify which motorcycles can carry passengers behind the driver. Motorcyclists must have a vehicle with a seat designed for the driver and passenger.
Passengers must have one leg on each side of the seat when riding behind a driver. Statute 316.2085 requires passengers to face forward and also prohibits passengers from riding a motorcycle in any way that restricts the driver's view or impairs their ability to operate the motorcycle.
Listening devices
Motorcyclists rely on their senses to operate safely. Drivers, in particular, must be able to hear oncoming traffic, horns, sirens, and other sounds that could indicate situations that require them to adjust their speed or course.
As people age, it's common to experience hearing loss. Hearing issues affect almost 27% of individuals over the age of 64. Although this number drops when considering all adults over 17, 13% of all adults have hearing issues.
Florida laws allow individuals who need hearing aids to wear these assistive devices while operating a motorcycle. However, these laws also prohibit drivers from wearing headphones or other listening devices that sit on or in their ears. Drivers are permitted to wear helmets with headsets as long as the headsets aren't touching their ears. Under certain conditions, drivers are also allowed to wear headsets that only transmit sound to one ear, and they may also use a headset that connects to their smartphone if the set only transmits to one ear. In these scenarios, the drivers must have one ear that's unobstructed so they can hear surrounding sounds when the headset is transmitting.
Florida laws about hearing devices only apply to motorcycle drivers. Passengers can wear headsets.
Motorcycle drivers must use daytime headlights
Florida law 316.405 requires Florida motorcycle riders to drive using a headlight even in the middle of the day. The law makes it clear that failing to use a headlight isn't evidence of negligence in a civil case. However, if the failure to use a headlight is the proximate cause of a crash, it may be evidence of the motorcyclist's negligence in a civil case.
Motorcycles must have mirrors
Motor vehicles have evolved since their introduction. Since cars first appeared on U.S. roadways in the 1800s, they've changed shape and size. Manufacturers have also added new features that improve the design or safety. Examples of safety features added to vehicles include windshield wipers, brake lights, and airbags.
The first vehicle mirrors appeared in the early 1900s. Mirrors allowed drivers to see motorists, pedestrians, and others behind their vehicles. Since roadways have expanded to multi-lane highways, mirrors have become an essential safety feature, enabling drivers to see what's behind them. Mirrors can alert drivers to emergency vehicles approaching at high speeds. They enable drivers to see pedestrians and other vehicles when backing up. Mirrors also provide drivers towing trailers with a clear view of the trailer while in transit.
State laws require all motor vehicles licensed in Florida to have mirrors. The law stipulates that the mirror must provide the vehicle's driver with a view of the road behind them; the law does not require that passengers have mirrors. Drivers must be able to use the mirror to view no less than 200 feet behind their vehicle.
Stunts such as wheelies are illegal
There are several stunts and dangerous activities motorcycle drivers may be tempted to try. These activities include the following:
Burnouts

Drifting

Making doughnuts

Popping wheelies

Street racing
Florida Statute 316.191 defines these terms and other terms related to dangerous driving activities. The statute prohibits drivers from engaging in stunt driving while operating any motor vehicle, including motorcycles. The penalties for violating this statute increase in severity if the driver has more than one conviction. Drivers lose their driver's license for a year and must pay a fine for a first offense. The fines increase and the driver's license suspension extends to two or four years for a driver's second and third convictions.
Other Florida motorcycle laws
Florida laws also stipulate the following:
Motorcycle drivers can't carry items that prevent them from

using both hands

to operate their vehicles

Motorcycles must have a

license tag

permanently secured to the back of the bike, and this tag must not be obstructed

Motorcycles must be equipped with

parking lamps

to ensure parked motorcycles are visible to other drivers
There are requirements for motorcycles in Florida
In addition to rules for drivers, there are rules that govern what your motorcycle needs to have to be lawful on the road. Florida law 316.2095 and Florida law 316.222 list requirements for infrastructure for motorcycles. Your bike must have footrests, handlebars, stop lamps, and signals. Florida law 322.01 defines a motorcycle as a vehicle with no more than three wheels. A motorcycle is powered by a motor, and it has a displacement of no more than 50 cubic centimeters. It also has a seat and saddle for the rider.
Most violations of Florida motorcycle laws are civil infractions
Usually, if you break a motorcycle law in Florida, you've committed a civil infraction. Motorcycle law violations are civil infractions. While they're not crimes, they may still impact your license and cost you a great deal. Some motorcycle-related offenses are crimes. If you ride a motorcycle while you're drunk, you can be charged with drunk driving. If you drive recklessly, you may face charges for reckless driving in Florida. As a motorcyclist in Florida, you must follow the rules for careful driving and avoid criminal offenses like drunk driving.
Motorcycle laws in Florida are state laws
Motorcycle laws come from state law. It's up to each state to decide what they want the rules to be for motorcyclists. When you look for information about motorcycle laws in Florida, you're looking for Florida law as opposed to the U.S. national law. There aren't U.S. laws about when motorcycles need to wear helmets, for example. Instead, each state decides what they want the laws to be for motorcyclists on the road. If you're riding in Florida, you must follow Florida's motorcycle laws. If you're in another state, you must follow their motorcycle laws. A lot of neighboring states require helmets. Florida doesn't require helmets in all circumstances. Other states require all motorcyclists to wear helmets. When you head out to ride in another state, you've got to comply with their motorcycle laws even if you have a Florida motorcycle endorsement or a vehicle registered in the state of Florida.
Can a local government like Miami-Dade County create different motorcycle helmet laws?
Another interesting question when it comes to motorcycle laws and motorcycle helmet laws is whether a local government can make laws that are different from Florida laws. The answer is no; local governments can't create motorcycle laws that are more restrictive or less restrictive than state laws. Florida courts have ruled that state laws are meant to comprise the full body of law for motorcycle topics. Local governments can neither add to or diminish existing state law.
In the 2016 Classy Cycles v. Bay County case, the court ruled that a local government may not require people to purchase additional motorcycle insurance above and beyond state requirements. Also, they can't require riders to wear fluorescent green vests. The court ruled that local governments can't forbid behavior that the state has explicitly licensed.
Contact our motorcycle accident attorneys in Miami
Have you been hurt in a motorcycle accident? Are you wondering how Florida motorcycle laws impact your rights? Contact our experienced motorcycle accident attorneys in Miami for help.
At Bernstein & Maryanoff, we're motorcyclist enthusiasts, too. We know that if you're hurt because of a motorcycle accident, you need help right away. Contact us today for a review of your case.
Turn to the experts at Bernstein & Maryanoff and get your free legal consultation regarding your motorcycle accident injury.
Sources:
CLASSY CYCLES INC v. BAY COUNTY (2016). (2016).
Dennis, D.A. (2002). The Emergence of the Helmet Defense in Florida.
First American Car. (2023).
FLA. STAT. § 316.191. (2022).
FLA. STAT. § 316.208. (2022).
FLA. STAT. § 316.2085. (2022).
FLA. STAT. § 316.209. (2022).
FLA. STAT. § 316.2095. (2022).
FLA. STAT. § 316.211. (2022).
FLA. STAT. § 316.222. (2022).
FLA. STAT. § 322.01. (2022).
FLA. STAT. § 316.304. (2022).
FLA. STAT. § 316.405. (2022).
FLA. STAT. § 316.425. (2022).
Insurance Co. of North America v. Pasakarnis, 451 So. 2d 447 (Fla. 1984). (1984).
Madans, J. et al. (2021). Hearing Difficulties Among Adults: United States, 2019.
Marcus, M.N. (2007). 1911: First Rear-View Mirror in a Car.
Negligence Per Se. (2023).
Rex Utilities, Inc. v. Gaddy, 413 So. 2d 1232 (Fla. Dist. Ct. App. 1982). (1982).
Ulmer, R.G. et al. (2005). Evaluation of the Repeal of the All-Rider Motorcycle Helmet Law in Florida.
About the Author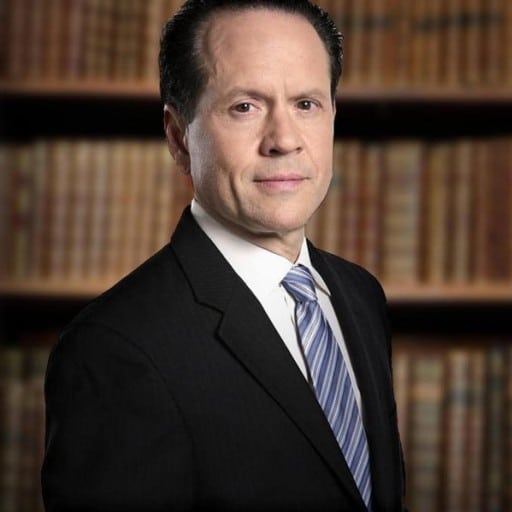 Jack G. Bernstein, ESQ.
Jack Bernstein is a hard-working and highly motivated personal injury attorney in Miami, Florida with over three decades of experience. He is a strategist and idea person, with a genuine passion for helping his firm's clients. If you've been injured, contact Jack Bernstein today for a free evaluation of your case.